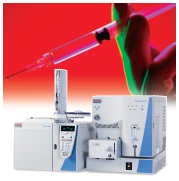 Thank you for your interest in the latest Forensic Toxicology GC-MS applications. Additional information about each application is provided below:
The Determination of Anabolic Steroids in Human Urine using the TSQ Quantum XLS:
High selective hyperbolic quadrupole assembly provides the appropriate tools for low concentration drug screening analysis.


Confirmation and Quantitation of Six Opiates in Urine:
Optimized parameters provide fast analytical run times for opiates in human urine without coelution interference, ensuring accurate confirmation and quantitation.


U-SRM – Ultra Selective Detection of Analytes in Complex Matrix Samples on the TSQ Quantum XLS Ultra GC-MS/MS:
Break barriers and overcome typical matrix limitations and interferences when analyzing at extremely low concentrations using U-SRM.
To download these featured applications, please complete the fields below and click the "Continue" button. A new window will open for you to download the featured information. If requested, you will be contacted by one of our sales specialists to provide further detail about these applications.