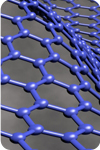 Advances in the Characterization of Graphene and Graphene Based Materials using Raman Spectroscopy
Graphene and Graphene-based materials (i.e. carbon nanotubes and graphene oxide) have generated intense interest due to their impressive electrical, mechanical, chemical, and thermal properties, which is hoped will lead to a new generation of graphene-based devices. In all stages of application development there is a requirement for materials characterization and analysis; from the initial research stages, through to testing of the finished devices.
Raman spectroscopy provides important information about these materials at the molecular level. This includes information about layer thickness, uniformity, quality and functionalization, key parameters that ultimately determines the properties these materials will possess. This webinar will present an overview of recent work where Raman spectroscopy is playing vital role in realizing the development and full potential of these materials, spanning the range of applications from advanced composites, energy storage, transparent electrodes, and sensor technologies.

Date:
Wednesday, March 27, 2013
Time:
Session 1 - 9 a.m. EDT / 2 p.m. CET / 13:00 GMT
Session 2 - 4 p.m. EDT / 9 p.m. CET / 20:00 GMT

Duration:
45 minutes with 15 minutes for question and answer